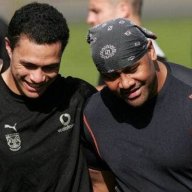 mt.wellington
Warriors Orange Peeler
Contributor
Been a hard time being a fan lately. Thought Id start a comp to cheer this place up. I have a signed 2015 away jersey in XL spare in my collection and one of you sorry sacks is going to win it. Its got everyone on it. About 30 players including those that have already left or leaving.
Competitions simple. Pick your winner and score for the 2015 Round 26 Eels vs Raiders game.
Why that game? Even odds on that game and dont want to make loyalists choose against our team. You'd have to admit a betting man would bet on the Doggies and thats the last thing I wanna see
.
​
RULES
Thread will be locked within an hour of kickoff Sunday 6th September 2015 4:00pm (AEST) 6:00pm (NZST).
Must name winning team and score eg Warriors 50-16
Same team and score between multiple members will result in the prize going to the person who has the most likes.
Closest score with winning team wins if the exact score isnt picked.
Open to all members new and old a like and even admin (except me)
Rules subject to change (in case anyone has a bright idea on evening the field. Im not a professional comp man sorry)
Any questions please ask.
Good luck and cheer up a little guys and gals. 2016 is just around the corner...