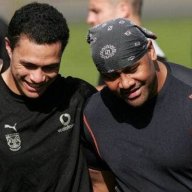 mt.wellington
Warriors Orange Peeler
Contributor
99. LANCE HOHAIA
Last update
Henry Perenara's most infamous moment happened in September 2013 when he and Matt Cecchin allowed the Cronulla Sharks 7 tackle try to happen during the play offs. All six officials in that game were stood down and it some time for Henry to get off the naughty step. He's been given the reigns...
nzwarriors.com
The Huntly Hurricane was still playing for St Helens RLFC during our last update but would retire only months later after after suffering ongoing serious symptoms, including memory loss and headaches that would last hours, if not days from the altercation he had with Ben Flowers during the 2014 Super League Grand Final.
Lance is set up in Michigan, USA since late 2016 and has done a number of jobs mainly around the real estate industry. Right now he is coaching a rugby team at Aquinas College, Grand Rapids.