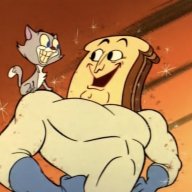 Navigator
Christchurch Born n bred white bait fed.
Contributor
This is what our team needs and its in our back yard.
Roosters coaches' brutal pre-season sacrifice
PLENTY of coaches take their teams to hell and back each pre-season. Craig Bellamy uses his infamous boot camps to sort the wannabes from the gonnabes in Melbourne.
Wayne Bennett likes to beat his players home in the time trials, reminding them that if a 67-year-old should-be retiree can do it, they can too.
But Trent Robinson, he and his entire football staff signed up to "see the sights of Queenstown", as Aidan Guerra puts it.
"Beautiful place Queenstown."
Robinson, assistant coaches Matt King and Craig Fitzgibbon and under 20s boss Anthony Barnes. Recruitment man Adam Hartigan and a half dozen others from the Tricolours support crew.
They're all there slogging, struggling, suffering through 36 hours of trekking and team building.
Lugging those Paul Bunyan-sized logs up and down the New Zealand hinterland.

Shivering through the freezing kind of night only the south island can put on, with winds whipped straight out of Antarctica.
Pushing each other over and under three metres walls.
Army crawling through simulated battlefields. Punching out sit-ups in the shallows of a lake as idyllic as it is straight icy.
Robinson admits "there is a bit of softness" to the latte-fuelled high life of Sydney's Eastern suburbs.
Rugby league's hardest men "can get soft, if you want to in our area".
Which may have had something to do with he and his staff completing every single gut-busting, gruelling activity the Kiwi commandos asked of his players.
"I don't know if they knew what they were getting themselves in for," Guerra laughs.
"For us as players, it was testing times, let alone staff who sit at a desk for their job.

"We were two months into pre-season training. We're pretty much at peak fitness and we're struggling.
"So yeah, it was ballsy from the coaching staff. But it just added to the respect that we had for them."
Guerra jokes that he doesn't want to go back there, and you can't make him.
Isaac Liu describes the Mule NZ run camp as the best he's ever been involved in, because the coaches matched the players' monumental effort.
"It certainly brought the team together. You saw how the hard work paid off.
"The coaches survived, they did really well. I actually remember thinking how proud I was of them. There were a lot of things where they could've jumped out, played the 'I'm a coach' card. But they didn't.
"They just rolled up the sleeves, they didn't show they were struggling and got stuck into it with the rest of us."
The Chooks have now won 12 games by six or less points this season, more than any other side in history.
Their seven wins by a margin of two or less ranks them alongside Canberra in 2006 as rugby league's ultimate clutch kings.
Faith in their ability, and the teammates around them, has secured the Roosters some wins they freely admit they didn't deserve in 2017.
Faith founded in Queenstown.
"It was more than just a boot camp," Guerra says.
"There were times there that were testing for sure but it was more about getting that trust in each other.
"I can't tell you what Robbo was thinking after a tough 2016 but if he thought there was a lack of trust there in us, well this was one hell of an exercise for it.
"And it's shown on the field, you can see that trust between the players and around the place in general. We're all pulling in the same direction again."
https://www.foxsports.com.au/nrl/op...e/news-story/119cd5007f4cf44ed2f4088050e5d372
Last edited: