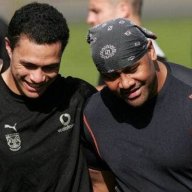 mt.wellington
Warriors Orange Peeler
Contributor
Simon Mannering
ANNOUNCEMENT | Mannering re-signed
Richard Becht
Sat 12th April 2014, 03:59PM
Vodafone Warriors
captain
Simon Mannering
has underlined his total commitment to the club by today signing a new four-year contract to the end of the 2018 NRL season.
On the eve of the
Vodafone Warriors
' sixth-round clash against the Bulldogs at Eden Park, owner Eric Watson said the signing was not only one of the longest but also one of the most significant in the club's history.
Watson also revealed veteran prop
Jacob Lillyman
had been re-signed to the end of the 2017 season and back rower
Sione Lousi
to the end of 2016 bringing to 12 the number of players who have extended their stays in recent times.
"This a signal of how much the
Vodafone Warriors
mean to Simon, Jacob, Sione and all the other players who have re-signed," he said.
"It's also a tribute to the work
Dean Bell
(general manager football operations) is doing with Wayne Scurrah (chief executive) with our recruitment."
He hailed
Mannering
's contract extension as critical.
"Simon's signing is a fantastic coup and a huge boost for the club," he said.
"He is exceptional across the board as our record-holding captain, a player of the highest order and also a person of tremendous quality.
"I'm elated he is extending his career with us to what will be 14 seasons. Only a few in the game today can measure their dedication to one club in such terms."
The 27-year-old
Mannering
, off contract at the end of this season, had attracted significant interest from other clubs.
"This is the biggest contract of my career because it could possibly be my last," he said.
"I love this club and always will. I'm keen to be a part of our future and have the greatest faith in the direction to the club is heading. We have much to offer this season and in years to come.
"It's not just about football, though. I also have my family to consider. That was a big part of the decision and I'm really happy it has all worked out."
Andrew McFadden
, appointed interim head coach this week, also welcomed the contract extensions announced today.
"I have the greatest admiration for Simon and what he means to the team and the club," he said.
"It's the same with Jacob. Like Simon, he's such an experienced and consistent performer, the type of player we place the highest value on in our squad.
"Sione started the season really well after his injury trouble last year and has a lot to offer us as do all the players re-signed."
Lillyman
(30) has extended his
Vodafone Warriors
career to nine seasons with his new three-year deal. He became the club's 22nd 100-game player last season and will play his 168th career match tomorrow. Named the players' player of the year twice in the first five rounds,
Lillyman
has been making a big impact off the bench, averaging more than 130 metres a game so far.
Lousi (24) had his 2013 season destroyed before it even started, a knee injury sidelining him for all but a few minutes of the first trial match. He has come back this year to represent the club at the NRL Auckland Nines and claim an NRL spot until he was suspended for two games.
Mannering
, who made his NRL debut as an 18-year-old in 2005, will lead the
Vodafone Warriors
for the 94th time when they face Canterbury-Bankstown at Eden Park tomorrow (4.00pm kick-off; match day sponsor: SKYCITY).
He is five games into his 10th season as an NRL player and his fifth as captain. He has the chance tomorrow to bring up his 50th victory as captain, another first for a
Vodafone Warriors
captain. He has a record of 49 wins and 44 losses so far while his predecessor
Steve Price
had a record of 42 wins and 47 losses with two draws.
As well as being set to become the club's first 100-game captain, he is also in line to become only the second player to play 200 games for the
Vodafone Warriors
. He sits on 193 heading into the Eden Park game tomorrow and is on track to hit 200 in the first home game of the year at Mount Smart Stadium when the
Vodafone Warriors
face Newcastle in June.
Apart from
Mannering
,
Lillyman
and Lousi, general manager football operations
Dean Bell
today revealed nine other players have been re-signed recently.
John Palavi
, who played the first two NRL games of the year, has been signed to the end of 2016 as has prop
Charlie Gubb
.
Gubb
, an NRL Nines representative, made his debut last year and is in line to reappear in the NRL side at Eden Park tomorrow.
Others secured on two-year contracts are former Vodafone Junior Warriors captain
David Bhana
and NYC prop
Sam Lisone
, centre
Solomone Kata
and fullback
Brad Abbey
. Bhana is now in the fulltime NRL squad and has been named on the
Vodafone Warriors
' NRL bench tomorrow while
Lisone
has appeared for both the club's NYC and New South Wales Cup sides as well as being the NRL side's 18th man;
Kata
, who excelled for the Vodafone Junior Warriors last year, is still NYC-eligible and played at the NRL Auckland Nines; much sought-after St Paul's College product Abbey, still only 17, will make his sixth consecutive NYC appearance for the Vodafone Junior Warriors tomorrow.
Last month the exciting
Tuimoala Lolohea
and
David Fusitua
were re-signed. Still NYC-eligible they both starred for the
Vodafone Warriors
at the NRL Nines and were also used in the club's NRL trials. They've been used mainly at New South Wales Cup level this year while
Fusitua
made his NRL debut against St George Illawarra at Eden Park in March.
Lolohea
has been signed to the end of 2017,
Fusitua
to the end of 2016.
Just before Christmas prop
Suaia Matagi
(26), who had an outstanding rookie year in 2013, had his contract extended to the end of the 2015 season. He has appeared in all five NRL
matches
this year.
-Original link has been taken done by the club