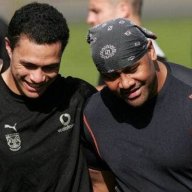 mt.wellington
Warriors Orange Peeler
Contributor
Warriors ISP NSW Cup 2019
​
Heading south for ISP trial
Richard Bechtwarriors.kiwi
Thu 21 Feb 2019, 11:07 AM
Former Kiwi captain Nathan Cayless makes his coaching debut with the Vodafone Warriors when he takes a 20-man Intrust Super Premiership squad to Christchurch to face the Canterbury Bulls on Saturday (1.30pm kick-off).
The match doubles as the grand opening of the Ngā Puna Wai Sports Hub, Canterbury rugby league's new base after moving from the spiritual home Addington Showgrounds (Rugby League Park) after last season.
Also there on Saturday will be Warriors women's coach Luisa Avaiki who'll be looking for prospective players on show in a South Island women's NRL trial (11.45am kick-off).
For Cayless, the match against the Bulls is the first of two trials before the ISP campaign starts against the Canterbury-Bankstown Bulldogs at Mount Smart Stadium on Saturday, March 16. The second hit-out is against the Western Suburbs Magpies in Whangarei on Saturday week (March 2).
The squad he'll use this weekend includes players from the Vodafone Warriors' wider ISP squad and players eligible for the Jersey Flegg Cup (under-20). In all 13 players were on the club's Jersey Flegg roster last year.
One of them is Preston Riki, who was named the club's 2018 under-20 player of the year and winner of the Sonny Fai Medal; he also had a taste of ISP football.
Two Canterbury products are in the line-up – centre Patrick Elia, who made 14 Jersey Flegg appearances last year, and Tahi Baggaley, an outside back with a background in both rugby league and rugby union. Baggaley has spent some of the offseason training with the Vodafone Warriors' NRL squad.
Named to start at standoff is Kayal Iro, former Kiwi Kevin Iro's son, who was named the Vodafone Warriors' 2018 under-20 rookie of the year, while Jersey Flegg captain Tyler Slade is also in the side.
There are some other family links with brothers Havi and Toni Tupouniua included along with fullback Israel Ogden, whose brother Ofahiki is now with the Bulldogs after playing for the Vodafone Warriors at ISP and under-20 level. The well-known rugby league name of Tuimavave features on the bench in Emmanuel Tuimavave-Gerard and prop Kalani Pewhairangi-Charlie is related to former Parramatta NRL player Api Pewhairangi, who is back in the Vodafone Warriors' system; he's on the bench for the club's NRL trial against the Melbourne Storm in Geelong on Friday night. Pewhairangi-Charlie has linked up with the Vodafone Warriors after playing at under-20 level for Cronulla the last two seasons.
Front rower Clayton Williams was in South Sydney's system making 36 NYC appearances for the Rabbitohs in 2014 and 2015 and 39 for North Sydney in the ISP from 2015-2017 before a stint with Saint-Gaudens XIII in France.
The Canterbury team includes 2006 Vodafone Warrior Corey Lawrie as well as former Vodafone Warriors ISP squad member Tevin Arona.
Gates open at 1.15pm on Saturday. Tickets cost $10.00 while entry is free for children under five years old. Ngā Puna Wai Sports Hub is in Augustine Drive, Wigram, Christchurch.
VODAFONE WARRIORS v CANTERBURY BULLS
1.30pm, Saturday, February 23, 2019
Ngā Puna Wai Sports Hub, Christchurch
1 ISRAEL OGDEN
2
EDWARD KOSI
3 PATRICK ELIA
4 TEVITA MIKAELE
5 SETU TU
6 KAYAL IRO
7 CASEY SMITH
8 WESLEY VEIKOSO
9 TYLER SLADE
10 CLAYTON WILLIAMS
11 HAVI TUPOUNIUA
12 PAULOS LATU
13 PHILLIP MAKATOA
14 RICHARD TOAI
15 KALANI PEWHAIRANGI-CHARLIE
16 PRESTON RIKI
17 EMMANUEL TUIMAVAVE-GERARD
18 JUNIOR PUA
20 TONI TUPOUNIUA
22 TAHI BAGGALEY
HEAD COACH | NATHAN CAYLESS
https://www.warriors.kiwi/news/2019...yohvSzDR6atxL3s6agDvWDrV7D_4avpD2KgQmhkN1aPL8