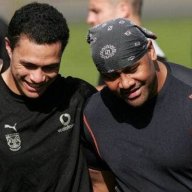 mt.wellington
Warriors Orange Peeler
Watched Cole Waaka play for Northcote last week. He looks a very good prospect but can't get a run now. Is that because the pecking order is clogged by players that aren't going to improve or is his job impacting on training?
Had to feel bad for the Tigers after they celebrated too early after Cole's drop goal lol. Think they clocked off after that thinking they had it in the bag.
Looking forward to the Hornets v Pirates game though I might not get to watch it as I'm trying to get to Bay Roskill to watch the Sharman game.
No idea why Waaka isn't playing but I'd say its because he isn't in the system. You look at the current backline and all those players are signed to the Warriors. That goes for the whole team really with Reece Charlie being the exception. You'd think Lewis Soosemea or Sam
Lisone
would have taken his spot if they both weren't injured...