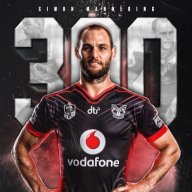 Long live the Rainbows and Butterflies
Contributor
I can see how the stats give that impression, watching the game however told a slightly different story.

Not saying Vete was bad, he started the game and held his own but when Satae came on the opposition had tougher time bringing him down particularly when he steps inside and run's a line directly behind the ruck into the drain which he favor's

The only other thing I'd mention is the stat sheet says points 4 which doesn't tell how he charged 20 meters collecting opposition defenders as he went before crashing over for a beast of a try.

He was a standout I thought as was Gelling who was in everything.
thanks, i know stats give a unreal impression of what is actually happening so i wanted a real opinion rather than just stats