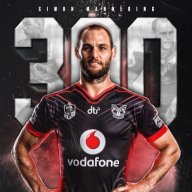 gREVUS
Long live the Rainbows and Butterflies
Contributor
Wonder what went down that made

SK

say "that was the worst session we've had...."

Less swearing than I was expecting, actually. Mangakino session was good (who's cellphone was it that got confiscated during the trivia night? Warriors Caught In Trivia Cheat Scandal). Most people spoke well, but the lighting, etc for some of the interviews -

Shaun Johnson

, SM etc - seemed weird.

Hopefully they'll end next week's episode with each player's name spelt phonetically so the Aussies can "dive right in"

SK

-style...
nah it'll be a toe in for sure