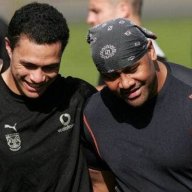 mt.wellington
Warriors Orange Peeler
Contributor
Rugby League nomad, a centre turned back-rower, represented the Maori team in the 2000 World Cup. Smith appeared in 8 Tests for NZ between 1994 and 2000.
Only played one season with the Warriors where he made 10 appearances and scoring one try.
He was in great form with the W'Tigers in the early part of the 2001 season before a shoulder injury disrupted his year. In 2002 Smith shifted to Canberra - his seventh premiership club. He would retire after a long term neck injury.
1993–96 South Sydney Rabbitohs
1996–00 New Zealand Kiwis
1997 North Queensland Cowboys
1997 Hunter Mariners
1998 Auckland Warriors
1999 Balmain Tigers
2000–01 Wests Tigers
2000 West Tigers Player of the Year
2000 Aotearoa Māori
2002–05 Canberra Raiders