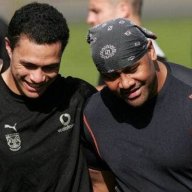 mt.wellington
Warriors Orange Peeler
Contributor
SECOND ROW | TONY TATUPU (#12)
A tall ball-playing back rower, Tatupu (born on July 26, 1969), was signed by the Auckland Warriors from the local football scene.
Out of the Mount Albert club, he played for North Harbour in the Lion Red Cup in 1994 and also won Kiwi selection that year. He earned selection for the start of the Warriors' debut campaign with his preseason efforts earning a place in club folklore as one of the club's try scorers in the debut match against Brisbane.
At the end of the 1996 season Tatupu took up a contract with Warrington in the English Super League in 1997 but was back at the Warriors for the 1998 and 1999 seasons.
In 1998 he had the distinction of scoring the try after the final siren which gave the Warriors a remarkable 24-21 win over Melbourne. He ended his playing career with Wakefield in England and then joined the police. Tatupu twice represented Samoa at the Rugby League World Cup.
NRL career: 67 games (1995-1996 & 1998-1999), 40 points (10 tries).
Warriors career: 67 games (1995-1996 & 1998-1999), 40 points (10 tries)
Profiles of the 17 players who appeared in the Auckland Warriors' Winfield Cup debut on March 10, 1995. Image | www.photosport.co.nz
www.warriors.kiwi