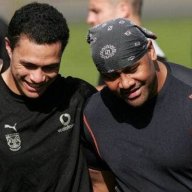 mt.wellington
Warriors Orange Peeler
Well, there was this instagram photo taken at Nandos that he posted before the game...
The accompanying comment from Konrad to that picture was that he was only having salad if I remember correctly. And he looks leaner now then he did this time last year IMO.
I fear the Tongans will take out their frustrations on a Kuki team who must be hurting after that USA loss. Could be a brutal scoreline.
Sorry to ya but I expect nothing short of an absolute thrashing! Vengeance styles...