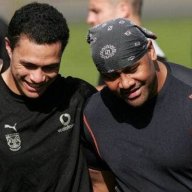 mt.wellington
Warriors Orange Peeler
Contributor
Geepee what was that about bunty being shipped to other clubs?
geepee is full of shit. I've known him for years and he use to feed me BS too and now it seems he's doing the same thing all over again. 2016 I first stated talking to him on here and on messenger.
Geoff, you know you are full of shit. You live isolated in the heart of the Waikato and have no direct connection to the club. You spend your day reading every single forum and league outlet online to garner everything you post as half truths. The rest you make up out of thin air.
When pressed for your source by taj you even tried to say you were an accredited NRL media worker 🤣. You can't even spell, mate.
The Isaac Liu rumour that I'm sure was started by you and caught fire was another completely made up BS rumour. Liu's own words confirmed there was never any suggestion that he was even talking to the club.
In a statement released on the club's website, the 31-year-old refuted claims he was seeking an early release.

"I'm not going anywhere, that's for sure," he said.

"I was at the beach when I got a call about it. I had no idea.

"I don't have any social media like Facebook or Instagram, so I didn't see any of the posts that said I was supposedly going to the Warriors.

"None of it is true...I'm fully committed here at the Titans."
geepee at one stage during Liugate was giving hit for hit real time updates that weren't even occurring 😂. How can you be posting updates on proceedings when they never happened 🤔? Other times he was stating fact on the sightest murmur as if he was telling Cappy what to do. "Oh I heard blah blah was interested/leaving/negotiating"?. 10 minutes later geepee is nope/yes/in talks. One week later the official press release stating the exact opposite. Who outside the club can confirm or deny on every single recruitment titbit related to the club?
The thirst is so real around here for that good oil that people clamoured to hear what you and your misguided sycophants have to say. Sycophants who you were actually feeding 'intel'.
People need to be a lot more judicious in what they believe on forums.
Honestly, this case was so obvious. No one has that much intel without being in the clubs recruitment trenches themselves.
In the words of Kevin Locke, AWWWGUMMMON...