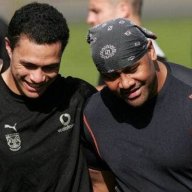 mt.wellington
Warriors Orange Peeler
Contributor
NRL player Suaia Matagi on long, hard road from jail cell
A drunken assault - then a stint in jail followed by years of remorse and shame.
Daniel Lane
12 January 2014 — 3:00am
Suaia Matagi was 15, a gang member, drunk and on a mission to avenge a friend's mother who had been bashed and ''bottled'' by a rival group when he ambushed some boys his age in West Auckland.
After a barrage of punches Matagi stood triumphantly over two bodies slumped on the footpath. He should have felt satisfaction. After all, he had achieved his aim to vent his fury, but the voice in his head warned the act would haunt him.
In 2006, the assaults led to Matagi being sentenced to three years in jail. Had it not been for one of the victims, who was hospitalised, asking the judge to show leniency because he had forgiven the now New Zealand Warriors prop, Matagi could have languished in Manawatu Prison, a nine-hour journey - and a living hell - away from his family home.
''I was looking at eight years,'' he said. ''I didn't appreciate the situation, thought I'd get a slap on the hand because I was a teenager at the time. It all happened when I was 15. But I was 17 and old enough to get a sentence.
''I met the boys face-to-face before I went in and that motivated me to change. I'm trying to organise it so one day I'll see them to let them know I'm a changed person. I don't know who that guy was any more because I left him in prison.''
Matagi tells the tale he describes as a source of personal shame in the hope he will influence young men to realise there are consequences to their actions. The problem of violence on Sydney's streets makes his message all the more poignant.
When he recently addressed NRL rookies the frankness with which he spoke about life on the inside shocked them and his path to redemption inspired them.
''My mates were like family,'' he said of being in a gang. ''Gangs are normal in New Zealand, a gang can start off with your street crew, the guys you hang out with. My old street was 'Aldern' and that's how it all started. You end up doing stuff you regret, don't think of the consequences that follow.
''When I heard a mate's mother was bottled it sent me over the edge. I wanted to hurt somebody that night. I was out on my regular routine, getting drunk with the boys and wanted to find who did that to my mate's mum. The opportunity came when I saw a group walking up the street. Next thing, I was standing over two badly beaten boys and later that week I heard one was in hospital. I knew this would come back to haunt me and it did when I was sentenced.''
It did not take long for Matagi to realise he was locked in a nightmare. Fights raged around him on the first day of his incarceration but nothing hit as hard as the degradation of being subjected to what he described as the mark of a criminal.
''I was in a prison cell with my hands cuffed behind my back,'' he said. ''That memory is the permanent mark of a criminal, it's not only the shirt that distinguishes you as a prisoner, it's moments.
''I stayed out of trouble even though it's impossible in a place surrounded by dangerous possibilities. You have gangs, drugs … it's all there, but I was focused on getting out early.''
Matagi said the realisation his family loved him despite what he had put them through, and, finding religion, saved him.
''I learned in the hard times your friends aren't there," he said. "When it fell apart only my family was there and they were suffering because of my actions. My family, my partner, Fai, the shame and loneliness they had to carry with them … my heart broke whenever I watched them go through the prison gates to see me.
''I would've deserved it if Fai left me, would've been another consequence of my actions. I live knowing my family suffered and that's not to mention my daughter … I missed her first birthday … what kind of father does that?
''I'd hit rock bottom. Didn't know what to do; the nothingness … no purpose. In my desperation I called out to God. In my desperation I cried out for him to help get me out early. If he did, I promised I'd turn my life around for good. I heard a voice say he'd turn me from a nobody into a somebody. I didn't know what that meant but my hope and my faith grew in prison. The path was often blocked by trouble but I found God guided my steps and it's been like that ever since I called out for his help. I am grateful for God's grace.''
Matagi spent his time inside doing courses to better himself, sidestepping trouble and wondering what path he would tread.
The answer to that came when he tapped into his childhood dream to represent the land of his forefathers, Samoa, when he participated in a prison sport called crash, a brutal pursuit in which prisoners congregate on the concrete courtyard and charge full steam into a defensive line.
It was how the prisoners earned their respect and Matagi noted there was no choice but to play because to stand on the sideline was seen as a snub and in prison snubs can lead to dangerous grudges. The idea to play in the NRL came to Matagi - who had never played any organised sport before - as he threw himself into the seething mass of inmates and found he could pick himself up despite the blows.
"Really hit me, I was going to do everything possible to make the NRL,'' he said. ''My attitude was I'd give my all. I had a dream at six to play in the NRL and represent Samoa … but I'd lost it when I turned 12 and headed the wrong way. I thank God for restoring that dream. He gave me hunger, he gave me hope."
His first step was to give up smoking, a self-inflicted torture for a long-term chain smoker.
"That was the first sacrifice. Gave up smoking because I had to face a reality - if I wanted to play in the NRL I had to quit. I was also scared. I saw the commercials of the effects smoking can have. So, I learnt sacrifice. It's not easy but I did it by myself. My lungs have restored themselves.
''It should send out the message it's never too late to quit and that there's no limit."
On the trip back to Auckland after Matagi had served a year of a three-year term, his thoughts flickered between the dream to play first grade and appreciating the torment his family endured. It was hard to feel at peace as the kilometres, and hours, ticked by on the prison bus.
"I was nine hours away from my family, from where my family came to visit me," he said. "I didn't realise how far it was until I made the trip home. It was hard to accept how often they'd made the trip.
"When I got home I trained when people weren't watching, road runs early in the morning. I knew nothing about training. I just moved. Up early, running up hills, developing stamina. I was rejected from almost every job I applied for because of my record. I kept knocking on doors until I found a job on a rubbish route. I picked up rubbish. I was keen to get a job, didn't want to be one of those guys who sat at home. A job, I figured that was a stepping stone."
He fronted up for the Te Atatu Roosters, then the Mt Albert Lions. He dented plenty of defensive lines and bruised many egos on his rapid rise through the ranks. He was selected for Auckland Vulcans in 2009 and the New Zealand Residents from 2009 to 2012. However, his criminal record stalled any chance of playing for the Warriors because Australia would not grant him a visa. It meant he could only play home games for the Vulcans. It was a setback and he responded by fighting to prove he was worthy.
"It was a long process to get a visa, I had to show I was a changed man," he said. "A lot of people helped, Restless World Visa [agency], a guy named Marc Garside, the Australian consulate in Auckland and Australian Immigration helped and I'm grateful. I want my actions to prove they made the right decision."
Matagi's story coincided with the two-year sentence imposed upon Newcastle forward Russell Packer last week as a result of the assault he committed during a night out. He says it is not for him to comment on Packer's actions but vowed to do whatever he could to support him.
"I'm feeling for his family and I am here for him," Matagi said.
His manager, Tyran Smith, said Matagi was as much a positive member in his Sports Player Management stable as Parramatta recruit and renowned NRL cleanskin William Hopoate, who has completed a two-year Mormon mission.
"His dedication is extreme," Smith said. "He is strong willed, he is loyal and he is brave enough to allow for others to learn from his mistakes. Players like Suaia and William are leaders and you build a club around them."
When Matagi is set to charge into defenders just as he did in the games of ''crash'' a different lifetime ago, he looks to the quotation scrawled across his wrist tape: "The Lord is my helper, and I will not fear what man shall do unto me - Hebrew 13:6.''
"I'm getting better," the 25-year-old father of two said. "Confidence is getting up. I realised early on everyone is human, everyone on the field has two legs. I went to a World Cup for Samoa and that boosted me because I tested myself against the world's best. Putting my body on the line for the team, they're like a family to me, keeps me going.
"My attitude when I got out of prison was I'd give my all, do my best and make my family proud. I wanted to show I just didn't have a terrible past and would stay where I was. I had a past, but I picked myself up. My best is to come. Enough is behind me."
https://www.smh.com.au/sport/nrl/nr...-hard-road-from-jail-cell-20140111-30nkk.html