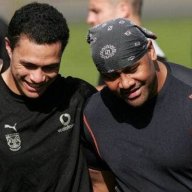 mt.wellington
Warriors Orange Peeler
Sam Lisone
​
Just a thread to chart the career of Sam Lisone through articles and posts...
NRL prop Sam Lisone coming of age at the New Zealand Warriors
DAVID LONG
Last updated 05:12, August 14 2015
GETTY IMAGES
Sam
Lisone
has been a go-to man for the Warriors this season.
There was a telling moment about the future of the New Zealand Warriors following their 36-0 thrashing at the hands of the St George Illawarra Dragons in Wellington last weekend.
It became evident when observing who was chosen to go on live TV and explain what had gone so disastrously wrong. It wasn't Sam Tomkins, Ben Matulino, Jacob Lillyman or any of the other senior players, but 21-year-old Sam
Lisone
.
The young prop hadn't played an NRL game before the start of this season but has gone onto play 15 first grade games and make his international debut for Samoa.
Throwing
Lisone
on live TV just after one of the worst results in the Warriors' 20-year history was a big call, but it demonstrated that he is emerging as one of the next generation of leaders at the club.
"That was one of my biggest losses in my first grade career and I just had to face it,"
Lisone
said.
"It was an embarrassing performance, shocking and not what our fans came to watch.
"That wasn't us, we dropped our standards and compromised, so we'll be looking to bounce back."
Lisone
said when he was given the responsibility of fronting up after such a dreadful performance he had no intention of backing out.
"Someone had to stand up and they chose me," he said. "I'm always keen to get out there and face the media and also tell our fans and tell them what happened."
Lisone
said the players had tried to move on from the loss at the Cake Tin but noted they needed to try and play with confidence in Saturday's game against the Panthers in Penrith in order to stay in the hunt for the NRL top eight.
"We're looking past that game now and ahead to playing Penrith," he said. "We've put all of that bad stuff to bed.
"If we can string a few wins together, we're still in there fighting.
"Penrith aren't travelling well and we're not travelling very well, so it will be a good game, but if we can get this win we can take some momentum into the finals, hopefully we can get a crack up there."
While it has been a breakthrough season for
Lisone
, he's also had his low moments. He was injured in the round 14 loss to the Roosters and it took him until the game against the Sharks in round 21 to get back in the team.
"I got a taste of NSW Cup again and got that burning feeling in my belly and then came back to first grade and tried to bring some punch," he said.
However, now back in the first grade side,
Lisone
hopes his days of playing in the NSW Cup are over.
"You feel that when you've been up for so long," he said.
"You don't want to be there. This is my first year out of the under 20s and in the NRL, so it's all part of that learning."
https://www.stuff.co.nz/sport/leagu...one-coming-of-age-at-the-new-zealand-warriors
Last edited: