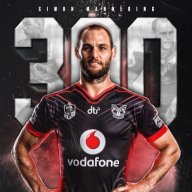 gREVUS
Long live the Rainbows and Butterflies
Contributor
These performances bring back personal memories from times long ago, before the professional era of rugby union when called up to play an invitational or trial, the idea being to throw a scratch team together for some sort of extraneous purpose or celebration. Inevitably the chosen opposition would be a top notch side, either touring or tier one side.
The reality was usually a horrible loss, a mismatch and the inevitable injuries where players either didn`t commit or over committed and an unequal competition resulted .
My point is this Warriors side is just a throw together of youngsters trying to make a mark and the more established players avoiding the fight not wishing to risk it all being exposed and without the proper support.
Any semblance of a team, band of brothers, working hard as one has evaporated.
How the Warriors have found themselves in this position is long and complex but they need a talisman not these flakey characters.
i hadnt noticed, but your right this is exactly what it looks like out there