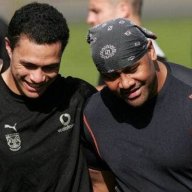 mt.wellington
Warriors Orange Peeler
Contributor
Apologies for getting this running so late. Didn't realise team list was so soon. Most of you will be aware of the competition and the rules but do brush up to avoid disappointment.
Name your starting 17 and if you get it correct with the official Round 1 list announced by the club you win a 2019 jersey of your choice. Consolation prize of a Simon Mannering book for closest guess.
Please read the full terms and conditions before entering. READING IS KEY.
Entries close an hour before team list is released by the club. Any entries after that will be voided. Best to get your entries in ASAP.
All players must be named 1-17 in exactly the order they play on Saturday (16/03/19). If a player is named #18 in the #4 spot they will be considered as #4. Order is more important than number.
Only open to members who have been part of the forum for 1 month plus.
Only ONE entry per member. Delete an earlier post and post a new team if you must. Multiple posts will void ALL entries.
Any edited posts will be voided. Delete old posts and start again.
In the event of a draw (two members name the correct 17 for Round 1) all remaining participants will continue to name a predicted side until we have a winner.
Leaked team lists will void this whole competition.
Consolation prize will be based off who has the most correct with starting 13 taking most points. See points table below.
Admin reserve the right to add or change rules at any time (only to clarify or bring more balance to the competition).
Apologies about rule 3 and 4. More a time saving issue for me as I don't want to be trawling through posts making sure no one has entered multiple times or checking edit histories. Takes too long.
GOOD LUCK
...
​
Points awarded for correct positions
17
16
15
14
13
12
11
10
9
8
7
6
5
4
3
2
1