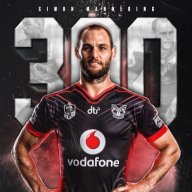 gREVUS
Long live the Rainbows and Butterflies
Contributor
Just checked in on their site now.
My goodness those fans are suicidal.

Who would have thought that the prospect of playing the Warriors would have sent them into such a spiral.

I think we should all chip in and get them a gift basket, maybe some artisanal toffees to cheer them up.
Those poor bastards. The stable is burning to the ground with a horses still inside.
i dont know what artis part means but are you seriously thinking of offering the poor buggers ANAL toffees?