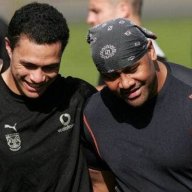 mt.wellington
Warriors Orange Peeler
Contributor
​
Just wanted to offer the McLeod family my deepest condolences for the passing of Peter McLeod.
A lot of fans have never heard his name before but if it werent for this mans huge effort we wouldnt have a club representing NZ in the NRL. Simple as that.
While it was members of the Mt Albert Rugby League clubs Board, which included John Ackland, that first wrote a letter to the New South Wales Rugby League Chairman it was Peter McLeod who was tasked by Auckland Rugby League with providing feasibility reports. getting sponsors, players, a coach, CEO, etc.
It was his efforts that saw us admitted into the comp in 1993 ahead of Austraian teams the North Queensland Cowboys, Western Reds and South Queensland Crushers. So prepared and thorough was McLeod's presentation that we were actually meant to start playing in 1994 but the other bidders werent ready.
This man truly was our founding father and deserves to be remembered as such. Hope the club made amends with him when down in Rotorua for the trial game and hopefully they do something special to remember him...