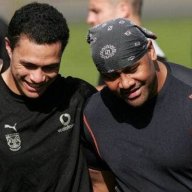 mt.wellington
Warriors Orange Peeler
Contributor
174. OMAR SLAIMANKHEL
Last update
169 Steve Rapira - ESL Salford Red Devils Unsure what he's up to now but meant to be back in NZ after leaving Salford. Will need to revisit this post soon... Super League: Steve Rapira given compassionate leave by Salford Red Devils Last Updated: 26/08/14 5:12pm Steve Rapira: Allowed to return...
nzwarriors.com
In 2015 Omar Slaimankhel had just finished up his lucrative contract playing Japanese rugby union with the Canon Eagles. Mid way through the league season he signed with the Sydney Roosters and played for their feeder team the Wyong Roos.
He's done a bit of bouncing around feeder and lower division teams since then with his last league club being the Western Suburbs Ron Massey team in 2019.
Omar most recent exploits have seen him star in the The Block Australia programme.
​
Omar & Oz​
The Block 2022
Best mates Omar and Oz are proud family men wanting to make a difference for their kids.
For their first few weeks on The Block, the practising Muslims were observing Ramadan while taking on all the challenges around them. They realise that visibility on television is important for young Muslim Australians. "We are Muslim and I am Lebanese, but I am Australian Lebanese," Oz said. "I'm a proud Australian and I want to show what two Muslim Aussies can do."
In between his time on The Block just last month and playing for Western Suburbs in 2019 Omar and his brothers have been heavily involved in developing the Afganistan Rugby Union team and infrastructure.
Here's an excerpt from a very long article on some of what they have done to get Afganistan Rugby Federation off the ground and into the future. Follow the link for more info...
What Is The Future Of Rugby In Afghanistan?

​

SEPTEMBER 6, 2021

The recent turmoil in Afghanistan has raised a number of issues for the short and long term future of the country. The Afghanistan Rugby Federation has steadily grown the sport, with more teams, competitions, age groups, and genders playing the sport. We wanted to find out about the state of the game and how positive those involved are about the future of rugby in Afghanistan.
Sabir Slaimankhel is the national Afghan rugby coach and player, while his brother Omar Slaimankhel is captain of the Afghanistan 7s side. The two are part of four brothers who represent the national rugby team!
After a series of WhatsApp exchanges, we managed to organise an online interview with Sabir, who from his home in Auckland, New Zealand, discussed the precarious situation in Afghanistan, how the Slaimankhels got involved with rugby in the country, and on his optimism about rugby in Afghanistan.
You are currently outside of Afghanistan – how did you get into rugby and how did you land up in New Zealand?
"Me and my brothers all played rugby in the back garden growing up in Auckland. Over lunchtimes and in the house. We were naturally gifted with genetics but it was also a passion we had."
Auckland has been Sabir's family home since the 1990s when the Slaimankhels moved to the rugby-crazed nation as refugees. The family fled their home in Afghanistan during the nine-year Soviet invasion and were among the five million Afghans who fled initially to find safety in Pakistan.
"We came to NZ in 1994 via my uncle who was an orthopaedic surgeon and he helped our family get over here. I was four years old – when you are young you are happy with everything. As you get older you get to appreciate things more. I have been going back and forth to Afghanistan from New Zealand and over the years and I am increasingly grateful for everything."
Omar Slaimankhel is a professional rugby player and Afghan national team player
​
Omar Slaimankhel – Afghanistan's first pro rugby player​
Omar Slaimankhel's rugby career has seen him represent junior rugby for Auckland and the Blues before signing a two-year contract with the Warriors in the NRL (National Rugby League). This probably means Omar was the
first Afghan to become a professional league and rugby player
.
Omar on his rugby roots: "We (the brothers) did all our schooling and footy in Auckland – We are all products of Auckland Boys Grammar School, which as many people are well aware of, is a huge rugby union school which over 50 All Blacks have attended. (
This includes current AB players Akira and Rieko Loane)
.
My brother Zakir and I moved to Sydney to play rugby league and currently are living here with our families."
The recent turmoil in Afghanistan has raised a number of issues for the short and long term future of the country. The Afghanistan Rugby Federation has steadily grown the sport, with more teams, competitions, age groups, and genders playing the […]
www.rugbyasia247.com