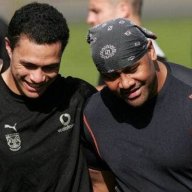 mt.wellington
Warriors Orange Peeler
NZWF Favourite Warriors Jersey
​
Restarting this thread as the votes were skewed on the last one with people not voting past the first poll in proper numbers.
Point of this thread is to find the forums favourite jersey. Huge poll with 50 selections so take your time. All poll choices have pics in this post below.
YOU CAN CHOOSE 10 JERSEYS. Please try to use them all so we can rank them fairly. Basically tick boxes until you cant anymore.
​
Because of the limited poll slots NO 2016 JERSEYS WERE INCLUDED but there is an option to pick a 2016 jersey and leave a comment as to which one. Personally the 2016 Heritage will definitely feature in my top 10.
Just a couple guidelines to keep it clean and fair.
Jerseys that are similar in appearance will be counted as one eg 1995-96 home jersey, 2003-05 Jerseys, 2009-2011 Jerseys.
Training Jerseys will only be considered if they were worn in a trial match at the very least.
Heritage Jerseys will all count as different Jerseys
No U20's or Reserve Grade jerseys are included in this poll
Be sure to vote guys cause we get enough going we should be able to rank them from number 1 to 1001.
Any queries or suggestions please ask as we want to make this fun and easy but do realise there may be some teething problems at first.
Thank you...
SELECTIONS
1993-1996 Home



1995 Away



1996 Super League Special



1997-1999 Home/Away



2000 Home 2001-2002 Away



2000 Away



2001-2002 Home



2002 Special 'Mt Albert'



2003-2005 Home



2003-2005 Away



2003-2005 Special 'Hoops'



2005 10th Anniversary



2006-2008 Home



2006-2008 Away



2006 Awen Guttenbeil Testimonial



2007 Special 'Auckland'



2008 Heritage 'Red'



2009-2011 Home



2009-2011 Away



2009 Heritage 'Blue'



2009 Training



2010 15th Anniversary



2010 Heritage 'Awen Guttenbeil'



2010 Training



2011 Special 'Black Fern'



2011 Heritage 'NZ Flag'



2011 Training



2012-2014 Home



2012-2014 Away



2012 Heritage 'Greenstone'



2012 Women in League 'Pink Paintball'



2012 Training 'Blue Paintball'



2012 Training 'Green Paintball'



2013 Heritage '2002 Flax Weave'



2013 Special 'Wellington'



2013 Women in League 'Hibiscus Flower'



2013 Training 'Inferno'



2013 Training 'Subzero'



2014 Heritage '20 Year Players Names'



2014 Auckland 9s & Special 'Eden Park Blue Voltage'



2014 Women in League 'Smoky Lady'



2014 Training 'Green Voltage'



2015-2016 Home



2014-2016 Away



2015 Heritage 'Wood Carving'



2015 ANZAC



2015 Women in League 'Supernova'



2015 Auckland 9s 'Paua'



2015 Training 'Zion'



2015 Training 'Anarchy'



2016 Heritage '2002'



2016 Women in League



2016 Auckland 9s '16 Teams Mascots'



2016 Training 'Members Special'



2016 Training 'Orange'
Original thread:
https://www.nzwarriors.com/threads/nzwf-favourite-warriors-jersey.50081/