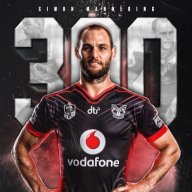 gREVUS
Long live the Rainbows and Butterflies
Contributor
Walk? Where to? Do the scouts even watch our ISP forwards? However if you mean

Blair

will walk if put in ISP I am all for it

.

Blair

didn't even make 20 metres last week. He made some good tackles though, especially on Cameron Smith by the scruff of the neck when he was making a break. He isn't worth the money he is on though.
would you still say that if they had won last week and the week before?