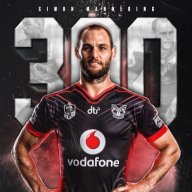 gREVUS
Long live the Rainbows and Butterflies
Contributor
long story short had to watch the game on NRL app. Its damn hard to see the detail on something so small.
However Great result. Very Happy. Credit to all players and staff in recreating a dynamic and intense warriors side.
Tohu Harris
was my MOM.
Kata owned Konnie.
Vete in next week and continue rolling them up. DO NOT rush Mannering back in.
Shaun Johnson
however disappointed me hugely. Any time he kicks a bomb and hes not on the oppositions 20 meter line hes wasting the ball. If his extra work with the ball has affected his kicks to the goal, find someone else who can handle it. Those will come to cost us down the track, and its about the team not the individual. Which brings me to my main point, his playing touch rugby in the middle of a game of League. Ive seen it before, hated it then, and hate it now. Love it when he runs straighter and steps players to drive forward, but that shit running sideways not passing the ball and running everyone else out of space sucks. It is an ego trip that the warriors have never needed and certainly dont need now. Keep the stepping, but calm down a bit and think occasionally. And if your holding the ball and running towards the sideline after just having run at the other sideline, pass it to someone who can straighten it the fuck up and make 5 meters.
IMO every player can stand proud for putting in for his team. And
Shaun Johnson
might be only 5-10% off from the rest of the team, but thats the shit that has kept the warriors from getting anywhere for years now.