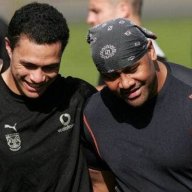 mt.wellington
Warriors Orange Peeler
Belief isn't reality. Some of you guys must have taken too much away from those preseason docos. The reality is our forward pack is now much worse than last year. We have replaced Jacob Lillyman, Ben Matulino, Bodene Thompson and Ryan Hoffman with Adam
Blair
, Leivaha
Pulu
, Ligi Sao and Isaiah
Papali'i
. We still have Solomone Kata and Ken
Maumalo
on one edge. Even worse is the thought that Anthony Gelling might replace Kata. Add to that the injury to Simon Mannering, Blake Ayshford, Agnatius
Paasi
and Gerard
Beale
and those rose tinted glasses are starting to turn a shit coloured brown.
Our club has been utter shite for a long long time now. The sudden introduction of Alex Corvo and Brian Smith isn't gonna change that overnight. Even Corvo said exactly that himself.
I'll happily eat humble pie if we part the Red Sea in Perth...