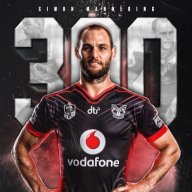 gREVUS
Long live the Rainbows and Butterflies
Contributor
I finally got to watch the game all the way through this morning.
My take away was that the Titans with so many injuries were heroic out there.
Fusitua
should have gone off after the head knock.
Ayshford if held to the same standard as so many held Konrad to actually had a good game in attack and a poor game in defense. But overall i can see why
SK
would stick with him for another week.
Kata did pass, but needs to forget about trying to run through people and should look for his support players.
There needs to be way more support players.
Hoffman and that kick - um well ... shit at least he tried to do something. I saw him yelling at people to straighten for the set up early in the play but i think everyone else had white line fever as they just kept passing it. I love the way he keeps his head when everyone else is losing theirs.
KF without SJs running brilliance he took on the line over and over. He lead from the front and finally gave the warriors attack on both sides of the pitch.
The forwards frustrate me, all of them. They get put on their back or spun nearly every tackle, they dont fight in the tackle and seem slow to get up. Gavet did a few times, but only about as many as Ken. They run hard and hit hard but then seem to relax, is this something to avoid injury?
Overall the win gives them a pass, and while i can see the changes in the team dynamic, its going to takes weeks before they become a polished gem.
P.s. watching the game knowing the result does give a very different perspective, its amazing how forgiving you can be when you see a mistake when you know they won.