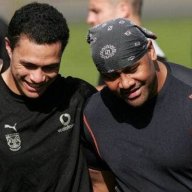 mt.wellington
Warriors Orange Peeler
Contributor
Don't think they were afraid they just seemed lethargic and disinterested.
I think they were. Afraid that is. The disinterest and lethargy you talk of is fear of hitting the line. Nine times out of ten its because theyve been smashed really good hitting it up. Maybe a nice little shoulder drop into the ribs that rattled them. Do that a second time and you always look up next time to make sure your not running at that guy again.
Same in reverse. You can get scared of certain players hitting it up cause they dont handbrake at the line and knock the shit out of you when you go to stop them.
They got rolled in the weekend cause they were physically dominated...