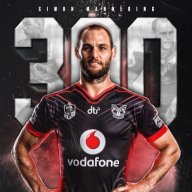 gREVUS
Long live the Rainbows and Butterflies
Contributor
I have been watching the tigers a bit, but not the titans.
Was just looking at the draw and with the tigers on the rise, it would only take 1 win and the warriors sink to 15.
The Titans are 2 wins away and have 2 possible wins in sight, one against a flagging warriors (this game could honestly decide the spoon IMO)
and the other against the bulldogs.
Then its all down to for and against and the warriors currently sit number 1, wait i mean highest in the comp, i mean standing out at - 237

Ive never wanted to see the warriors get the spoon, but this is defn as close as it gets.

if anyone has been keeping an eye on the Titans can you please let me know that there's no chance of this mess eventuating?