https://www.bbc.com/sport/rugby-league/41631148
Plans submitted for New York rugby league team to enter English game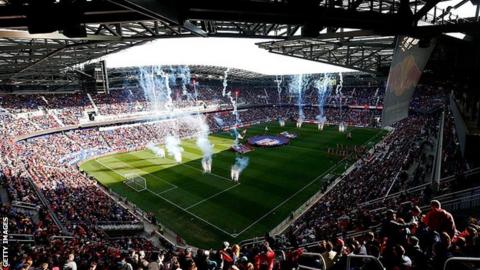 Organisers say the club would play at New York's Red Bull Arena
Plans for a New York rugby league team to follow Toronto Wolfpack into the English game have been submitted to the Rugby Football League.
Toronto
were promoted from League 1 to the Championship, the game's second tier, at the first attempt last season.
The consortium for the New York club hopes to get the go-ahead in time to enter the competition in 2019 at Championship level.
They are confident of building a fan base of 10,000 in the first year.
"We have a small consortium of high-networking individuals, one member of which has made New York his home, and all have a significant love for the game," said co-founder Tom Scott.
Like Toronto, who drew crowds of 7,000 last season, the New York club would not seek central funding and say they have already secured a $10m (£7.51m) investment.
The New York organisers say the team would also cover all travel and accommodation costs of visiting teams and play in blocks of home and away fixtures.
The plans have been tabled eight years before the United States is
set to co-host the World Cup
with Canada.
"We want to grow the sport in North America and increase the pool of players which would ultimately increase the chances of success for the USA national team," said the club's other co-founder Ricky Wilby.
The team would play at the 25,000-seater Red Bull Arena in New Jersey, with the consortium confident of attracting a television deal and having pledged to spread the game into schools and the local community.
Toronto founder Eric Perez says he will
launch a second Canadian club
in the next six months and predicts there could be up to six North American teams within five years.