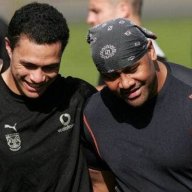 mt.wellington
Warriors Orange Peeler
Contributor
In 2003 he signed to play rugby league for the New Zealand Warriors. He played one game at hooker, coming on from the bench during the loss to the Canterbury-Bankstown Bulldogs at Westpac Stadium in Wellington.
For most of the year he played for the North Harbour Tigers in the 2005 Bartercard Cup. He also played for the Barbarians that year, wearing his Warriors socks.
1996–2002 North Harbour RU
1997–1998 Waikato Chiefs RU
1997–2001 NZ All Blacks
1999–2002 Auckland Blues RU
2003 NZ Warriors
2004–2008 Northampton RU
2008–2010 London Wasps RU
Not to be confused with Mark Robinson the Warriors owner from 2018 - present.
Mark Robinson - Co-Owner CLUB NEWS 'This is the opportunity of a lifetime for Autex' - Robinson Autex Industries Thu 3 May 2018, 09:11 AM A longstanding supporter of the New Zealand Rugby League community - Autex Industries - has confirmed it will be a joint owner of the Vodafone Warriors...
nzwarriors.com