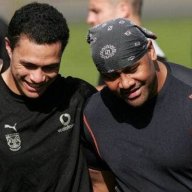 mt.wellington
Warriors Orange Peeler
Contributor
Ellis started playing rugby for Otago before gaining selection for the All Blacks in 1992. A wiry winger (he crossed for 6 tries when NZ beat Japan 145-7 in a 1995 World Cup qualifier.
At the end of the 1995 season Ellis switched to league to play for the Auckland Warriors where he joined his All Blacks team mate John Kirwan. Ellis was Warrior number 29 when he played his first match in 1996. He played for the Warriors between 1996 and 1998, playing in 36 matches and scoring 103 points through 11 tries, 29 goals and 1 field goal. Ellis also represented the New Zealand national rugby league team, the Kiwis, in 5 matches. But in league, as he had in union, Ellis suffered from an uncertainty as to which position was his best.
After leaving the Warriors Ellis played for North Harbour before playing Super Rugby for the Auckland Blues. He would finish his career back in Otago where it all started.
1991-95 - Played for Otago RFU, New Zealand
1992-95 - New Zealand All Blacks
1996-97 - Played for Auckland Warriors, New Zealand
1996 - New Zealand Kiwis
1998-00 - Played for North Harbour RFU, New Zealand
1999 - Played for Auckland Blues, New Zealand
2000 - Played for Otago Highlanders, New Zealand