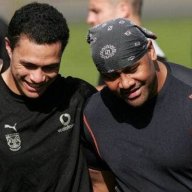 mt.wellington
Warriors Orange Peeler
Contributor
Edwards played for the dominating Canterbury provincial side of the early 1990s alongside such talent as Quentin Pongia,Mike Dorreen, Whetu Taewa and coach Frank Endacott. This side continued its success as the Canterbury Cardinals in the 1994 Lion Red Cup. In 1993 he was selected for the New Zealand Kiwis tour of Britain and France.
In 1995 he joined the new Auckland Warriors franchise in the Australian Rugby League. He played fourteen matches for the new club but was not re-signed for 1996.
He was to join the Hunter Mariners in 1996 however the a court ruling during the Super League war stopped the launch of the club until 1997. Having failed to secure a contract he retired from professional League.
1988 - Played for Rochdale Hornets, England
1991 - Played for Oldham Bears, England
1993 - New Zealand Kiwis
1994 - Played for Canterbury Cardinals, New Zealand
1995 - Played for Auckland Warriors, New Zealand