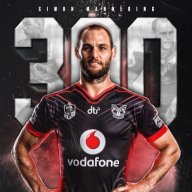 gREVUS
Long live the Rainbows and Butterflies
Contributor
ok a little out of the loop here, from the title i take it the kiwi team is playing in Denver at some time this year? and that the opposition will be ?

This must be an end of season game, yes?

I'll go on record now saying that if the warriors do ok this year, they will be picked to go to england to play there next year for the preseason clash, cause they always do that, and i fucken hate what the travel just before the season start does to the warriors. So i see Denver as being a disaster about to happen.