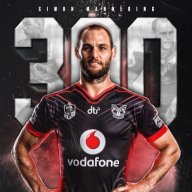 Long live the Rainbows and Butterflies
Contributor
I was hoping the other Jack we got would be the same but he turned out to be an error prone Raiders clone. With mad Jack leaving its an opportunity for

Murchie

to be the Jack Hammer.
playing like he does, errors and all, i would expect to see him in NSW team next year. They love a hit man and arent to worried about details like rules.