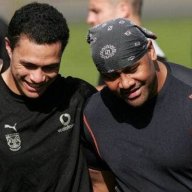 mt.wellington
Warriors Orange Peeler
Contributor
Isaiah Papali'i
​
Starting a player discussion thread on Isaiah Papalii who has been signed up by the Warriors. Kid has some awesome sporting ability. A name you will definitely hear more of in time...
Gold medals for weightlifter
November 2014
Congratulations to Year 11 student Isaiah Papalii, who came home from the Oceania Power Lifting Championships in New Caledonia with two gold medals.
Isaiah won the Youth (U17) 94kg+ division, and the Junior (U20) 105kg division with a 107kg snatch and a 125kg clean and jerk.
Isaiah, who is still only 15 years old, is also a member of MAGS' First XV.
https://www.mags.school.nz/Story?Action=View&Story_id=7562
Mount Albert Grammar crowned 2016 national secondary school rugby champions after tense final
Sun, Sep 4
Brodyn Knuckey
MAG's co captains, Waimana Reidlinger-Kapa (L) and Caleb Clarke (R) fool around with Isaiah Papali'i (centre) with the trophy.
Mount Albert Grammar have claimed the national secondary schools title this afternoon with a gritty 14-13 win in wet conditions over Hastings Boys' High School.
An impressive outing in Palmerston North from MAGS open side flanker Isaiah Papali'i spearheaded the determined outing from the Auckland side who showed touches of class with their kicking game and sheer muscle at scrum time.
But poor discipline late in the game from blind side flanker Thomas Barlow almost cost his side, after his dangerous tackle saw him sit out the final ten minutes of the game with a yellow card.
With fourteen men, MAGS held on to their 14-6 lead, thanks in part to Hastings' captain and halfback Lincoln McClutchie evening player numbers once.
McClutchie was yellow carded for the final minutes of the game after the referee had had enough of his niggling back-chat throughout the tense final.
Despite not losing a game all season prior to the final, Hastings Boys' were unable to get forward ball for most of the game and relied on the prefect boot of Danny Toala who went 3-from-3 off the tee to keep them in the game.
A consolation try on the hooter may leave the team ruing the bold decision in the 43rd minute to use their penalty on a lineout instead of three points when they were just 18 metres out.
The players from Hawke's Bay lost the ball two phases after the lineout and left MAGS' 22 with no points to show for their efforts.
both teams struggled to keep the ball in hand in the fast-paced game, with both sides reaching double figures in handling errors early in the second half.
But a dominant outing from Mount Albert's forward pack looked to be the difference as time and time again they dominated at the scrum and remained composed in countless pick-and-goes.
The title is Mount Albert Grammar's third since the tournament first began in 1982.
https://www.tvnz.co.nz/one-news/spo...dary-school-rugby-champions-after-tense-final