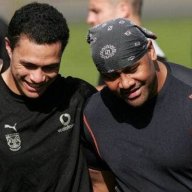 mt.wellington
Warriors Orange Peeler
Contributor
Over the holiday break we are looking at making a few improvements to the site and update old threads.
If anyone has any ideas on new features they might like to see used in this forum please post any suggestions. Do realise somethings may be beyond our budget as someone needs to write the code for many things but it cant hurt to ask. Know that every cent (and some!) earned from ads that pop up during visits goes right back into upgrading and hosting this forum which is why we beg you to turn off ad blockers for this site.
Some things are free bar time so if you have any thread ideas lets hear them.
I have started the long process of updating the
Where Are They Now
thread which is going on 8 years old. As well as updating that thread I'll be making sure every player has their own player discussion thread. Please feel free to post any memories you have, especially of the older players. Rather start now then wait for them to pass away before we do.
Would also like to start a game day thread starting from 1995 that features pics and maybe footage from every game the team has played. Already started collecting pics as part of my jersey research and collection. Maybe even do it as a profile with results, team list, stadium, stats, pics, footage, media reports, news clippings etc. Taj and I have discussed this but its a huge undertaking but a lot of it already exists via sites like the NRL and Rugby League Project.
Rugby League Project is an attempt to catalogue rugby league results in both Australia and the United Kingdom.
www.rugbyleagueproject.org
The idea is to not only have a forum to discuss the team and sport we love but be an all encompassing encyclopedia of everything Warriors that future generations can research and enjoy as this site will be passed on one day to the next generation of degenrates like us.
Chur...