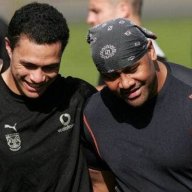 mt.wellington
Warriors Orange Peeler
Contributor
PROP | HITRO OKESENE (#10)
When it came to the mullet, few players wore it better than Okesene (born on September 22, 1970). Few players ran the football harder than he did either.
He was a product of the Manukau club in Auckland – the same club that produced Dean Bell – standing out as a hooker or prop.
He signed with Carlisle in England in 1989, spending four seasons with the club before returning home to play for Counties Manukau in the Lion Red Cup in 1994, the year he also made the Kiwis.
Signed by the Auckland Warriors, he stood out in the trials to claim a starting spot for the opening match against Brisbane when big signing Andy Platt was out with injury.
His head-down-run-it-straight approach – and his big shots on defence – made him a cult figure from the outset. With his locks flowing he made a huge impact in the first season and represented the Kiwis at the 1995 World Cup.
By 1998 he was back in England where he was equally popular for his approach to the game.
He played for Hull, Featherstone Rovers, les Catalans in France and then Workington Town. He also coached.
He, his wife Donna and their three daughters live in the north of England where Okesene works in the construction industry.
NRL career: 22 games (1995-1997), 8 points (2 tries).
Warriors: 22 games (1995-1997), 8 points (2 tries).
Profiles of the 17 players who appeared in the Auckland Warriors' Winfield Cup debut on March 10, 1995. Image | www.photosport.co.nz
www.warriors.kiwi