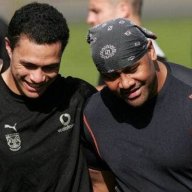 mt.wellington
Warriors Orange Peeler
Contributor
Young grew up in Wanganui, shifting to Queensland when he was a teenager. He played for a local Sunshine Coast club, the Beerwah Bulldogs, and from here made the Australian Residents side in 1994. In 1995 he signed with the newly promoted South Queensland Crushers in the club's debut season. Young was mainly used from the interchange bench in 1995 but made his Test debut against Papua New Guinea the following year before playing 3 Tests against the visiting Great Britain team. He came to the Warriors in 1997 before making his final Test appearance against Super League Australia in the inaugural ANZAC Day Test.
Young moved to England in 1998, joining the London Broncos. In 1998 he played 22 games in the Super League competition. However just two games into the 1999 season he broke his leg and was sidelined for the rest of the season. He did not re-sign with the Broncos for 2000, being unhappy with the contract he was offered.
Instead Young returned home to Queensland and reunited with his junior club, the Beerwah Bulldogs, becoming the player-coach. In 2005 he moved to join the Ipswich Jets in the Queensland Cup competition. In 2008 he returned to Ipswich to participate in the International Legends of League match.
1995–1996 South Queensland
1996–1997 New Zealand
1997 Auckland
1998–1999 London Broncos