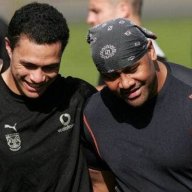 mt.wellington
Warriors Orange Peeler
Contributor
Just a friendly reminder about the
rules
. In a nutshell, don't be a dickhead or a dumbass! It's easy during times of turmoil combined with the boredom of the off season to get overly emotional but remember that while we may all have differing opinions we are all here as Warriors fans.
Be respectful of each other. Argue the post, not the poster. No name calling. No off topic posts about ethnicity or WW2! No trolling people who like to discuss ethnicity or WW2.
Ban hammer has been swung this week. Twice
. Very very rarely happens.
Enjoy your time here and if you have any questions, complaints or comments feel free to PM an admin or post below.

​
PS this thread isn't a free for all but will have it own off shoot in the Bog somewhere.