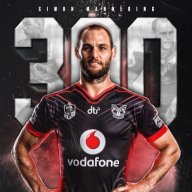 gREVUS
Long live the Rainbows and Butterflies
Contributor
The debate on NRL 360 was that just releasing Segeyaro wouldn't be enough. They Sharks always seem to get off lightly.

The ASADA investigation of rife doping among the NRL clubs ended up really only being the Sharks. A program to use peptides ended up with a two week suspension with the rest backdated over the years they were playing.

Self report a $50k salary cap issue ends up being cheating over multiple years. Paul Kent stating on NRL 360 they made a separate company for TPA's. Get off pretty lightly in terms of fines, no competition points lost and the extent of disrupting their playing roster is losing a dummy half they re-signed within the last few weeks who wouldn't of been on huge money considering he was serving coffee a few weeks ago.
you missed the bit where they also seem to get the benefit of the doubt on the field as well. You know missing forward passes, ignoring dirty play. etc