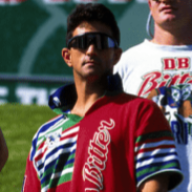 playdaball
Heritage Member
After a great start, Canberra's English experiment is not going to plan.
Home sickness is a real thing and it can be real lonely living on the other side of the world away from friends, family and familiar surroundings.
The move across the Tasman is easier but clubs still work hard to ensure that NZ players fit in and are happy.
One famous case of home sickness is a guy from Wainuiomata who couldn't make it work at Newcastle, Tana Umaga.