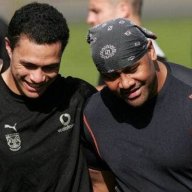 mt.wellington
Warriors Orange Peeler
Contributor
Cameron George​
A RESTRUCTURING OF the Warriors management structure has seen Jim Doyle move from Managing Director to the post of Executive Chairman, taking over from current owner Eric Watson who is stepping down, and Chief Operating Officer, Cameron George now becoming the club's Chief Executive Officer.
George built his career in the Sport of Kings in Australia, being involved in the integrity unit. He then moved to New Zealand to run the integrity unit across all three codes, thoroughbred, harness and greyhounds.
In 2012 he was appointed CEO of Auckland Racing and it was while in that position that he was asked by Eric Watson to join the board of the Vodafone Warriors in 2015. A rugby league fan all of his life (he had the affliction of supporting the Roosters till he came to New Zealand and fell madly in love with the Vodafone Warriors) it was a position he was delighted to take up.
It was therefore no surprise when he was offered the chance to join the Vodafone Warriors management team in May this year that he accepted without hesitation.
His first few months at the club have obviously been tough ones with the team struggling to get results on the field but this has only made him more determined to knuckle down and revitalise the outfit.
George says that the uncertainty surrounding the club's ownership has no effect on his ability to do his job. He will be holding a review of the season for all grades with the football department and any decisions regarding recruitment and personnel changes will take place after that.
A priority for next season will obviously be for the club to make the top 8 and have a chance at the big prize. 6 seasons of failing to at least be at the dance has been frustrating for fans (including George himself) and does not give the faithful the rewards their devotion deserves.
George is firmly of the opinion that having an Executive Chairman that is resident in the country is a big advantage and the fact that it is someone with Jim Doyle's experience in both the game and at the Vodafone Warriors makes it doubly so.
Despite the lack of on-field glory in recent seasons the Vodafone Warriors remain one of the best supported and most financially stable of all NRL clubs and George is confident that he can get all the mechanisms in place to ensure the playing side is in the best possible position for success.
One person who is sure George will do great job is Sir Peter Leitch who said that not only is George a sharp operator he is also a "good bastard". No higher praise.
https://newsletter.sirpeterleitch.co.nz/files/MB_Newsletter_185.pdf