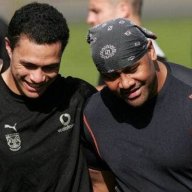 mt.wellington
Warriors Orange Peeler
Contributor
[Signing] Smith appointed GM - football
Richard Becht | Image:
www.warriors.kiwi
Fri 24th November, 01:10PM
Brian Smith, one of the most experienced coaches in NRL history, has signed with the Vodafone Warriors as general manager – football.
The Australian was at Mount Smart Stadium on Friday and will join the club permanently in the coming weeks, bringing with him a level of rugby league knowledge and expertise almost unmatched after more than 30 years as a first-grade coach.
His 601 games as an NRL coach is topped by only Wayne Bennett and Tim Sheens while he boasts close to 700 games in all including stints in England.
"The role of GM football is critical to our organisation's progress," said Vodafone Warriors CEO Cameron George.
"The GM will drive all aspects of football operations and leave no stone unturned in ensuring we have our system right and a very strong enforcement of standards and accountability.
"Challenging the status quo is welcome so a complete understanding of how a football department operates efficiently, transparently and as one unit to deliver the best results for our fans and corporate partners was paramount when we were searching for the candidate.
"In particular, coaching support and mentorship along with recruitment, salary cap strategy and management were heavily weighted. In Brian we're securing a person who has lived and breathed it for more than 600 NRL games at multiple clubs and obviously knows what is required.
"With this structure now in place, Stephen
Kearney
can concentrate specifically on coaching and set aside to Brian all other football department-related activities. The model we're introducing is used to great effect in many sports."
Smith said he relished the opportunity the role offered.
"I couldn't be more excited about taking up this role," he said.
"The concept of a general manager of football is to give Stephen every opportunity to concentrate on his coaching job. I'll be doing all I can to absorb the administrative workload which can be a real burden and distraction for a coach."
After coaching in lower grades with Newtown and South Sydney in the late 1970s and early 1980s, Smith moved up to first-grade, coaching the Illawarra Steelers for almost 100 games from 1984-1987.
He moved to England where he coached Hull FC from 1988-1990, taking the club to the grand final at Old Trafford in the 1988-1989 season (losing to Widnes).
By 1991 he was back in Australia for a five-season term with St George which included back-to-back grand final appearances against Brisbane in 1992 and 1993.
Two seasons with Bradford included a Challenge Cup final against St Helens which would be a forerunner to the Bulls going on a run of title successes in ensuring seasons.
He returned to Australia, guiding Parramatta for almost 250 games from 1997-2006. During his club record 10 seasons there, the Eels were finals regulars, winning the minor premiership in 2001 and 2005 and making the grand final in 2001.
Smith had two further head coaching appointments with Newcastle and the Sydney Roosters. His last top-level coaching job was with Wakefield in the English Super League in 2015-2016.
BRIAN SMITH
Born: March 14, 1954
Coaching Career:
Illawarra head coach, 1984-1987
Hull FC head coach, 1988-1990
St George head coach, 1991-1995
Bradford head coach, 1995-1996
Parramatta head coach, 1997-2006
New South Wales Country Origin coach, 2007-2009
Newcastle head coach, 2007-2009
Sydney Roosters head coach, 2010-2012
England assistant coach, 2010
United States coach, 2013
Wakefield Trinity, 2015-2016
Serbia technical adviser, 2015
NZ Kiwis technical adviser, 2017
Playing Career: 31 first-grade games, 1973-1979
St George: 14 games, 1973-1974
South Sydney: 17 games, 1975-1979
https://www.warriors.kiwi/news/2017/11/24/_signing_smith_appoi.html