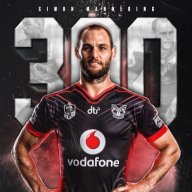 gREVUS
Long live the Rainbows and Butterflies
Contributor
Thank fuck that he is saying that people are accountable. Words are just words at the end of the day though. Lets see if he actually means what he says.

But i dont like this statement:
"He's slowly getting the players he want, he's got most of the ones…there's a couple more he'd like for next season, then it's up to him because it is his team. At the moment it's a team he was given."

No its not. I cant think of any player that was on a 4+ year deal before he came here..so its pretty much ALL his team. Its HIS players that he overpaid for that he chooses not to drop because it doesnt look good to management when you fork out way overs and then put them in reserve grade and have them replaced with minimum salary players.

Good on Autex. One owner hopefully going forward with this club. History has shown that this club cannot have multiple owners, and history has shown that ARL should never be given an opportunity to jeopardise Auckland rugby league scene by buying a professional entity.
I would love to see him name the players that
SK
is not happy with or even see him start the season with these unnamed players sitting in the stands. He has a 30 man squad available to him and needs less than 20 on the day. Thats 10 players that he should be able to sit out and would make it obvious if there are slackers on big money or if hes talking a few of the fringe buys