Watson offers to help fund stadium project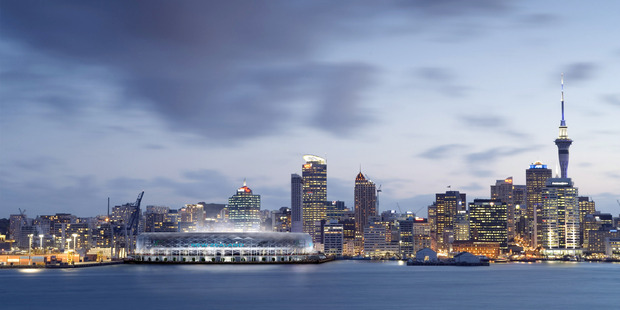 Rich-lister Eric Watson has pledged to invest in a new stadium for downtown Auckland.
The Warriors owner last night confirmed he would help fund a stadium project, saying "I believe in the benefits for Auckland".
And Watson revealed he had already approached other potential investors.
"The conversations ... have very much been around the concept and a number of people I've spoken to believe it is a great idea and are very enthusiastic to learn more. Hopefully that will translate into financial support.
"I am very enthusiastic and interested in seeing a downtown stadium for Auckland, assuming the plan is solid both for the build, its location, appropriate seating capacity and for its economic viability, I will assist with my networks where possible."
Watson said it was too early to say how much he was prepared to put in, but he would be an investor.
Meanwhile, Martin Snedden, the Rugby World Cup boss who fought for Eden Park to be the centrepiece of New Zealand's 2011 hosting and beyond, has done a dramatic u-turn, saying a new waterfront venue could "revitalise" the city.
The
Herald on Sunday
can reveal Auckland Council was approached last year by former America's Cup boss Stephen Barclay over private cash to build a new downtown stadium.
Barclay, a New Zealander who was director and chief executive of the 2013 America's Cup in San Francisco, spent 18 months "deeply involved" in a private investigation of Auckland's venues.
He dropped the project six months ago over a lack of "political interest" in a waterfront development. Barclay said he had had interest from two English Premier League clubs and a major American sports team in potential investment in the project.
He said Warriors owner Watson is shaping as a key player now because any concept hinges on a private investor - or a consortium backed by them - willing to stump up at least $100 million on a potential $300m 25,000-seat stadium.
The 2015 NBR Rich List estimated Watson's wealth at $500m.
"The catalyst is an investor, not the council, and the investor is always a sports team owner because they have access to resource and create the brand," Barclay said. "The Warriors are the obvious one. They want a new home and ... a potential new A-League team in Auckland would be looked upon favourably because it creates a local derby with the Wellington Phoenix. This is not a council-led thing, it's a private investment-led thing that the city decides whether to be part of.
"If Watson or potential A-League owners in Auckland want to sit at the centre of this and throw money at it, then from there it's very simple."
Minister of Sport Jonathan Coleman this week said a new venue could cost more than $1 billion. But Barclay says his 18-month probe produced much smaller costs.
"The numbers I heard, and I have no reason to believe these aren't correct, were about $300m for a 25,000-seat stadium and about $500-600m for 35,000 capacity," he said. "The successful formula is world proven, evenly split three ways across the investor, the deal for the land - usually the local council - and the rest is debt."
Brett O'Riley, chief of council entity Auckland Tourism, Events and Economic Development (Ateed), was aware of Barclay and Watson's interest in the issue.
O'Riley said Barclay's model appeared financially sound and while no private business cases have been pitched, he said Ateed would welcome a backer with open arms. He was not surprised to learn of Watson's interest.
Snedden says a multi-purpose stadium, with a capacity between 25,000-30,000, would be the best option.
"I could always see the potential in the downtown idea but at the time the proposal was [light] on certainty and detail."
More than 16,000 readers took part in an online Herald poll, with 82 per cent of respondents in favour of a new stadium.
Next steps
1. Auckland Tourism, Events and Economic Development wants the stadium.
2. A private investor willing to pay around a third of the cost must be found.
3. A total budget of at least $300m must be found (for a 25,000-seat arena).
4. A decision is made on whether Eden Park stays, goes or is redeveloped.
5. Aucklanders show desire for a new stadium.
https://www.nzherald.co.nz/business/news/article.cfm?c_id=3&objectid=11608655