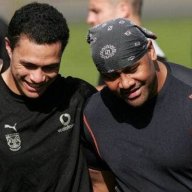 mt.wellington
Warriors Orange Peeler
Contributor


With other clubs starting to release their 2023 jerseys its time to start this thread up in hopes the Warriors release theirs soon or by some miracle someone leaks them. Been a while since we seen some leaked images.

Will be interesting to see if the replicas had enough time to get the new One logo. Jersey production usually starts from October with delivery in mid December. From what I've been told the players jerseys will definitely have them plastered across their chest. I'm guessing the Warriors will be a key part of the new identity roll out.

Will be interesting to see if Puma also go with the 2003 home or away jerseys as heritage jerseys being its 20th anniversary.

Whatever happens Puma had better not have the same lazy approach to our kit as they did in 2022 with the mismatched shorts and socks...