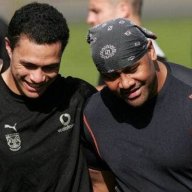 mt.wellington
Warriors Orange Peeler
Contributor
That time of year where our main focus is the teams toughest preseason ever. This started last week but there has been no images released by the club just yet. Jayden
Nikorima
started his preseason same day he left isolation. Joining him are the Warriors development team.
As media reports have already stated the Warriors preseason will be split in two camps. One based at home and the other in Australia...
Kiama Warriors: New Zealand side's pre-season set to be split across Tasman​
By Christian Nicolussi
October 17, 2020 — 3.30pm

Kiama, the picturesque coastal town known for its blowhole, is about to get some high-profile rugby league blow-ins.

The New Zealand Warriors plan to split their pre-season across two countries with one group based in Auckland and the other – 2165km away – on the NSW South Coast.

Incoming Warriors coach Nathan Brown will get a crash-course on the COVID-19 pandemic and the challenges it continues to present for NRL clubs when official preparations for the 2021 campaign start next month.

The unique circumstances mean Brown and even some of the players, including new recruit Euan Aitken, will not greet each other until the new year.

Warriors boss Cameron George will meet with the NRL next month to get a better understanding of the biosecurity measures proposed for pre-season training, but confirmed the two training set-ups would be adopted until Christmas.

All clubs are waiting for confirmation about whether players will need to re-enter a biosecurity bubble for pre-season training.

"It looks like we'll be doing the two camps pre-Christmas because of the border situation," George said. "We've made commitments to have an Australian-based group at Kiama and a New Zealand-based group at the same time. Justin Morgan will run the Kiama group and 'Browny' will be here in Auckland.

"We're trying to eliminate as much as possible the isolation for players and allow them to be at home with their families for as long as they can.

"Then post-Christmas we don't know where we will be at."
Kiama has regularly hosted NRL clubs for training camps while the Kangaroos spent a week there this time last year ahead of the Wollongong Test against New Zealand.



Former Knights coach Nathan Brown will face some early logistical challenges at the Warriors.

The Warriors are awaiting on an exemption for Brown to enter New Zealand to get to work. The club were still working through which side of the Tasman prop Addin Fonua-Blake will start life as a Warrior.

The New Zealand club isolated in Tamworth before spending the season in Terrigal. The players' preference is to return to the Central Coast if required, while George said Queensland's Redcliffe, where their feeder club is based, is also an option.

There was a big win for the Warriors on Friday when the NSW-New Zealand one-way bubble officially started, which allows New Zealand residents avoid the otherwise mandatory 14-day hotel quarantine.

Such a move will make it easier for Warriors players and their families to travel to Australia, which was a major roadblock this year and saw star wingers Ken Maumalo and David Fusitua return home in the middle of the season.




Kiama, home of the blowhole ... and now a few New Zealand Warriors players.CREDIT:ISTOCK

"It's peace of mind for me, the club, the staff and all the players," George said.
"What it means is those players who came home because their families could not get to Australia, that's no longer an issue."

The Warriors have Brown taking over as coach while Fonua-Blake, Kane Evans, Ben Murdoch-Masila and Aitken have all signed. Jack Murchie, who grew up on the south coast, will also join the club permanently.

The NRL have already commenced work on next year's draw and are forging ahead in the thinking that games will return to New Zealand. By doing so, should the Warriors be forced back to Australia, the timeslots will not need to be altered.


The Warriors faced almost an entire season away from family in
2020
. Their 2021 pre-season looks like it will also throw up some challenges.
www.smh.com.au