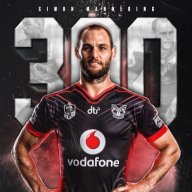 gREVUS
Long live the Rainbows and Butterflies
Contributor
I think this year has to be taken in context .
If we had started the year playing like we finished playing we would be celebrating .We were in line to get the spoon for a while .
Maybe, but to often i am told that blaming the ref is making an excuse, well so is blaming anything else, including the season from hell. For all we know they played better because of the reorganisation and the introduction of loan players into the team. Watching the game last night i wonder if the application of a bit more of the process would have helped them not look like headless chooks so much.
For me its all about balance. Warrior Ball and the proccess are at either end of the spectrum and finding that balance probably in favour (just a bit) towards the Process is probably the way to get more wins.
My thought is that NB is going to be all about his version of the process. I hope to be proved wrong.