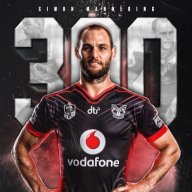 gREVUS
Long live the Rainbows and Butterflies
Contributor
Ok so its that time of the week. Whos your picks? Why and how bad will Qld thump NSW this time.

actually finding it really hard to get motivated about this one, i already feel the fix is in NSW will win this game to create the mother of all games for SOO 3. I just cant decide if QLD will throw it or if it will be a ref special.

For all those looking for good news, Gus is not commentating tonight. Hes on the sideline so shouldnt have to hear to much from him tonight.