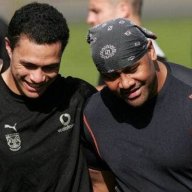 mt.wellington
Warriors Orange Peeler
Contributor
Jazz Tevaga
re-signed. They tried to hardball but the club were pushed to do so after Sharks were going to fly him out for a tour.
Club keen as hell to get Simon Mannering to stay on in some capacity. Not going to happen. Already bought a house in Nelson just hasn't told management yet.
Mason Lino not signed to any just now. Will hold off making a decision after his wedding in Queenstown which is coming up.
Asked about Ligi Sao and his non-selection and he just fell out of favour. No one but
Kearney
knows why but
Kearney
did say he always planned to
Blair
playing lock...