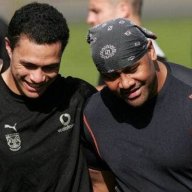 mt.wellington
Warriors Orange Peeler
Hi all.
Was wanting to get opinions, ideas and comments on what fans would like to see improved in terms of memberships, membership packs, pregame game events, game day experience, after match functions etc.
Basically the club are trying to engage with fans more and try get more people to become members, get along to games and improve the game day experience of fans.
Any useful relevant comments and ideas will be raised on your behalf with Warriors Fan Engagement Manager Aaron
Lawton
and CEO Cameron George at an upcoming meeting
Cheers...