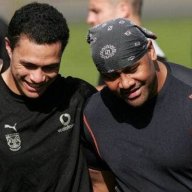 mt.wellington
Warriors Orange Peeler
Contributor


As usual all skin fold tests and weights were taken before the teams disbanded. They all know what targets they have to hit. Most would need to lose weight and slowly regain it to their ideal playing weight.

Some players think that Camp Hell wont be happening again. Took too much out of them. Not sure if this is official or not.

So anyway. Here we go again guys. Cant wait for the 'this has been the hardest preseason ever, the team have never been fitter' type articles...